I live in a small town in Warwickshire called Kenilworth, a rather ordinary place with a spectacular castle which I've posted about before. So this time I'm going for some slightly more mundane stuff.




Our back garden is a patch of grass with stuff round the edges, like umpteen million others in Britain.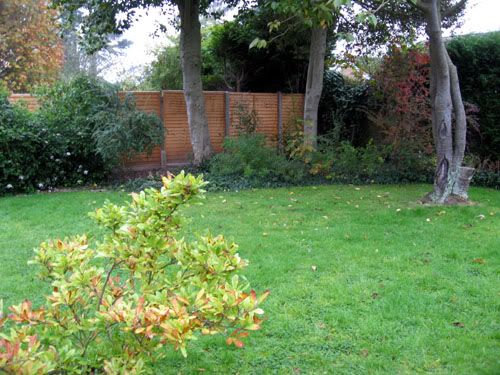 Along one side is a rather rampant shrubbery: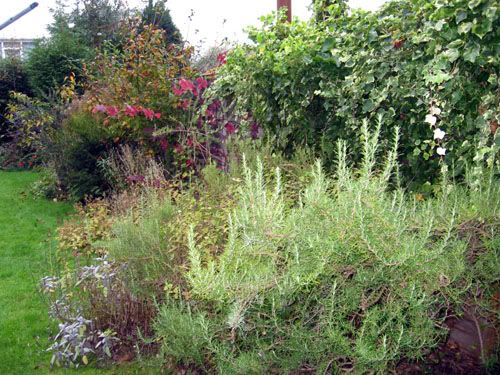 Within which my dear husband has planted some less usual plants - for around here, anyway - like a grape vine (you can see the red leaves above) and a medlar. This is a member of the apple family which had some much cruder names in times long past. Mercutio puts it explicitly:
Now will he sit under a medlar tree,
And wish his mistress were that kind of fruit
As maids call medlars, when they laugh alone.
Romeo, that she were, O, that she were
An open-arse and thou a poperin pear!
You can perhaps see why:
They have to be "bletted" - that is, viirtually rotten - before you can eat them. DH likes the flavour. So at least somebody does.
The front garden actually still has quite a few flowers in it - with any luck some will survive another month unless we get a heavy frost.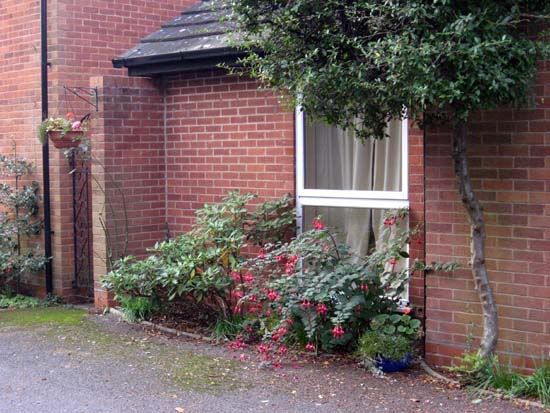 Kenilworth town centre is small and over-full of charity (thrift) shops. We do still have a market, though.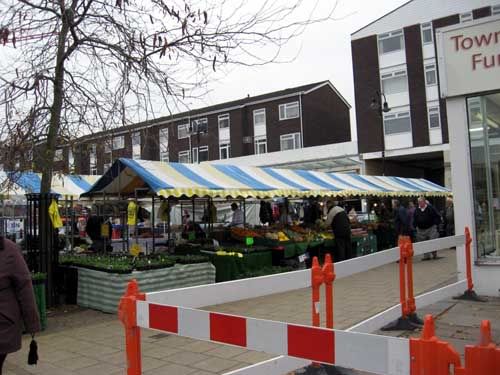 This is an area called "Abbey End" at the top end of town. It's where the two bombs to hit the town in the War landed, which accounts for its drab buildings - Sixties New Barbarism.
The clock tower survived, though - a gift to the town by some Victorian dignitary. Note the horse trough - placed there just before the combustion engine rendered it obsolete of course.
The ugly building behind it is the De Montfort Hotel, named after local baron Simon De Montfort, who summoned the first ever Parliament. The patch of grass in front of the clock, BTW, was where people placed their flowers when Diana died ten years ago - the whole area of grass and paving was about two feet deep in rotting vegetation by the day of the funeral.
This is the view down from there into the main shopping street, Warwick Road.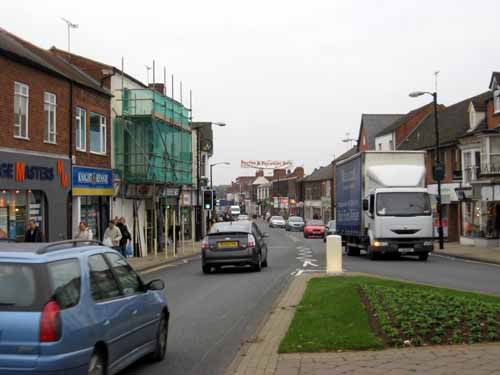 Kenilworth is a discrete town - Coventry is all of five miles away, with a very different "personality".



My journey to work starts when I pull out of the drive and peer round the huge hedge, left over from the Victorian "gentleman's house" which was knocked down to make our row.
Note the stylish skip in front of the house across the road.
Directly in front is a tree my girls have always lusted after - now because it is pretty, in days of yore for its climbing potential, wasted on a childfree family.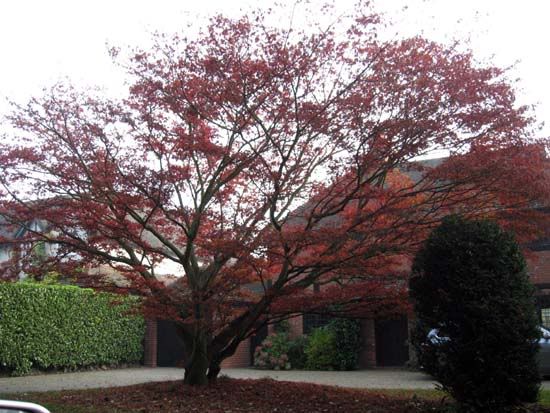 And I turn left...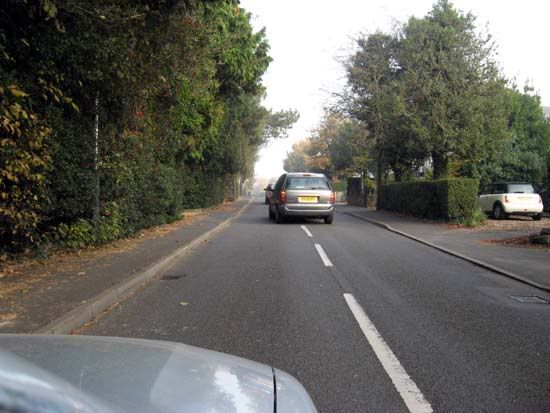 As you can see, there's a lot of hedge.
A little further on we pass a cherry tree which looks pretty in spring and autumn.
And down a dip past the three fields which separate Kenilworth from Coventry - important distinction to locals! It was misty this morning.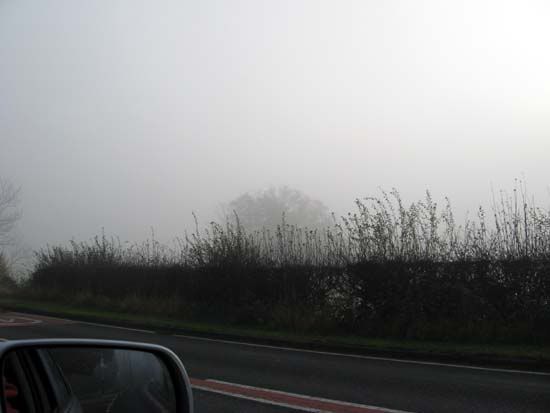 Then on to the traffic lights at Gibbet Hill - yes, where rotting corpses were displayed to discourage potential criminals a couple of centuries ago.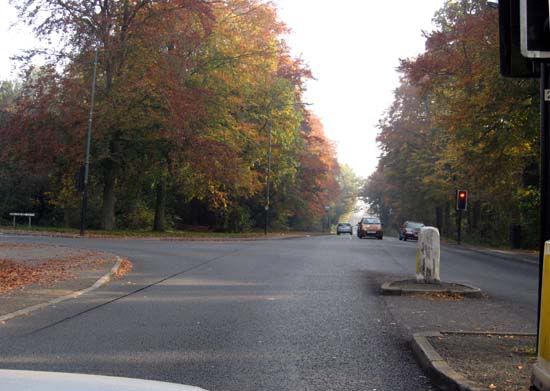 Finally I'm going to share some shots of the park I pass just before getting in to school at the other end of the long tree-lined avenue in the photo above. The park was purchased by public subscription after the First World War as the city's War Memorial, and has a huge monolith in the centre.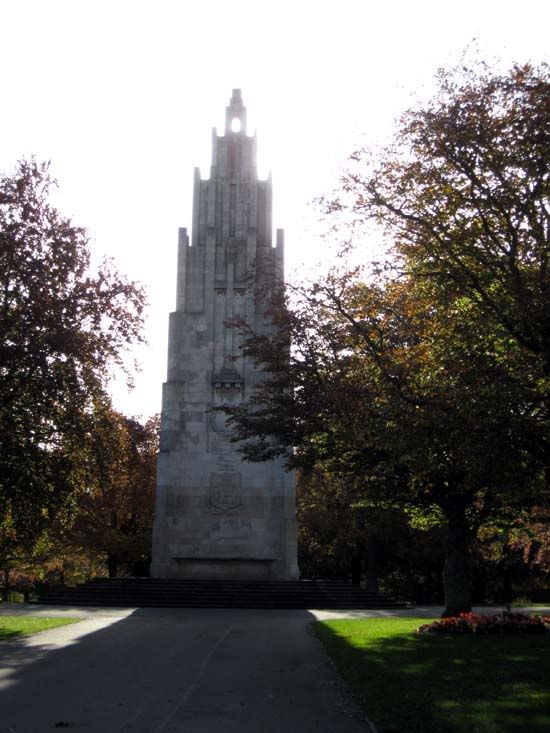 It's a huge park and all the trees seem to have plaques dedicating them to the people who have passed on - not just in war ,now, but as a way for family and friends to record their memories. I rather like the idea. You can see one of the little plaques at the foot of the tree to the right.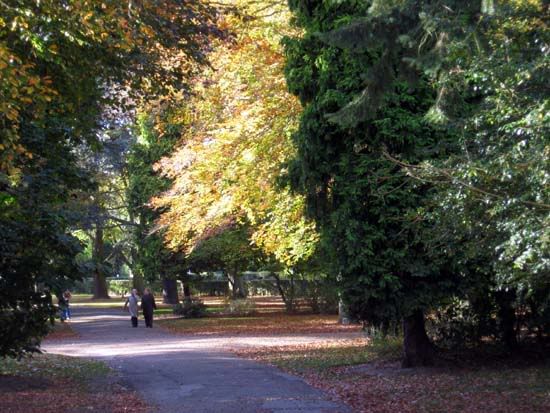 It's a popular place to walk, and my school uses it for cross-country running.
There are some military memorials, though, like this one for a VC - the highest award for valour possible for a British soldier.
And this one, with early poppy wreath (the big day for that is next Sunday of course) for airborne soldiers.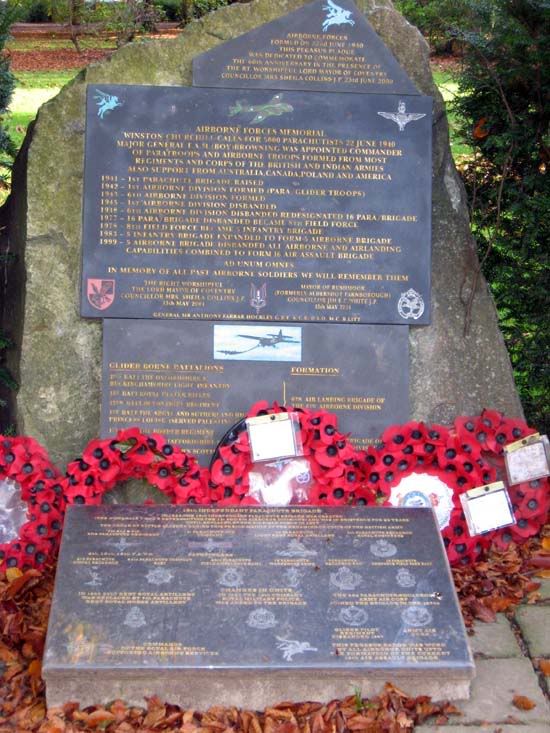 Thanks to everyone who has shared pics of their home areas this weekend - I really enjoy seeing something of where you all live. And thanks to
curiouswombat for maintaining the comm.